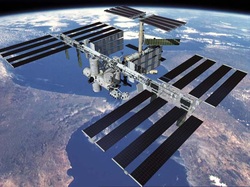 If I could copyedit reality, I'd make ISIS pick a new name. The International Space Station has first claim on all combinations of I and S.

In English it's ISS. In French it's SSI. When I see ISIS, my first thought is that's Typo for the international space station. Then I read about how muslim girls from Britain have been stopped from going, and I'm thinking, yeah, yeah, I know, we all want to go to space, but you have to apply like everyone else…

Is it a problem that I like my version of reality better than actual reality?

ISS should have more name recognition than ISIS. And those kids are need better dreams. If they knew a little more they could act out properly by going to Oxford to get a PhD in theoretical astrophysics.
Photo credit: NASA