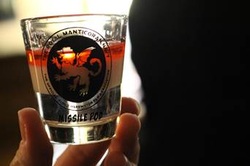 MantiCon 2015 was one heck of a convention. It's hard to believe it, but this year was the first year for this con. The organizers did a fantastic job. The guests were fun, the attendees were fun, and a great time was had by all.

Without particularly planning to do so, I live tweeted the convention. So without further ado, I present for your entertainment: my #MantiCon2015 Twitter feed.

Since apparently MantiCon is the convention I just never want to leave, I started a Day 5+ of MantiCon2015 online-only panel on my Facebook wall. It's a repeat of the always popular:
"Quitting for Fun & Profit - day jobs, dream jobs, and getting from one to the other."
Feel free to join in there or comment here.
A quick word about my social media accounts on Facebook, Twitter, LinkedIn, Google+, & Pinterest: I only decline friend requests from poorly programmed bots. All humans and well designed bots welcome! (I object to bots-presenting-as-humans, but as a science fiction writer I find the good ones strangely compelling. That, and I don't want to irritate our coming robotic overlords.)