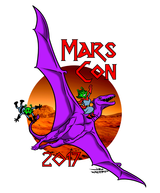 I'm delighted to be a guest once again at MarsCon in Williamsburg, Virginia this year. The convention is next weekend, January 13-15, at the Williamsburg Doubletree.
Here's my schedule.
Friday 6pm – Opening Ceremonies
Saturday 11am – Science Fiction vs Science Fact: Beneath the Waves - The Kraken? Submarines? Underwater cities? Mermaids? Aliens? Are some of the most popular deep sea fiction ideas supported by real science? Panelists: Margaret S. McGraw, Jim Beall, Joelle Presby
Saturday 5pm – More than Swords: The Military and Fantasy - While there are plenty of fantasy soldiers who wield a sword, ax, or bow, you can also find those who have magic and more modern weapons, such as the well-armed mercenaries of the Monster Hunter International series, where magic and technology are inexplicably linked. Let's talk about how to integrate the war and the military into fantastical settings. Panelists: Chris Kennedy, Jim Minz, Joelle Presby, Drey Mychalus, Melissa Scott
Saturday 7pm – Dragons in Fantasy, Horror, and Science Fiction - Panelists will talk about how dragons are incorporated in these genre fiction and what makes the dragon a hot commodity for them. Panelists: Pamela K. Kinney, Margaret S. McGraw, Mari Mancusi, Joelle Presby
​Saturday 8pm – The Delphic Oracle - Todd McCaffrey performs the ancient magic of the ages and creates - from a group of 6 simple authors - the complexy, mystifying Delphic Oracle. The Oracle will answer any question posed - one word at a time, one panelist per word, until either the end of time or one of the panelists has the sense to say "full stop". Panelists: Todd McCaffrey, Nicole Jamison, D.J. McGuire, Joelle Presby, D.C. McLaughlin, Holly Harding, Kim Headlee
I hope to see you there!